Why Advertise with us ?
keyboard_arrow_right Get Quality Trade Inquiries from Indian and Overseas Customers Infobanc receives largest number of import trade inquiries from Indian and Overseas Buyers. Please visit Buyers section where more than 150,000 import trade inquiries have been displayed. Displaying Your Banner Advertisement at infobanc means reaching out to quality buyers at home and abroad - 24 hours a day !

keyboard_arrow_rightCost effective, Targeted Promotion With more than 10 million hits per month and an audience full of business entities - your promotional effort reaches out to exactly the kind of demography your business needs - ensuring high Return on Investment (ROI)
Infobanc Advantages
Top b2b portal in the world - as recognized by industry leaders
Alibaba lists infobanc.com as among top 100 online marketing websites' (15th rank) in its Resources section
Infobanc has been adjudged among top 15 b2b portals in the world by b2bbyte
Wikipedia has as many as 6 references of infobanc.com
eHow.com article lists infobanc.com as major source of business information in India
Get InfoBanc Advantage to Fuel Your Business Growth
keyboard_arrow_right We offer comprehensive advertisement solution covering broad areas of online marketing through infobanc network
Homepage Banner
keyboard_arrow_right Attract Global Customers - Build Brand value in Global Marketplace A Banner on Homepage of infobanc.com attracts maximum attention, puts your company in the limelight, ensures your customers get to see the information you want them to see. Banners are a great way to enhance your presence, strengthen your brand value and gain an advantage over your competition.
keyboard_arrow_right On an average - infobanc receives more than 2 million page views per month - majority of which goes to homepage.
keyboard_arrow_right High Visibility: Banner will appear in the front page of infobanc site on a random basis. This increases the chance of your ad getting noticed by a massive number of potential buyers.
keyboard_arrow_right More Click Throughs : Being on the homepage, your product will get lot more hits from buyers.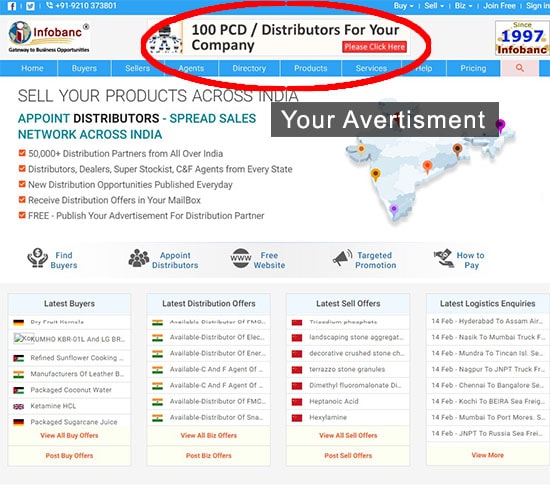 | Infobanc Home Page | Amount / month | Dimensions in Pixels | Size |
| --- | --- | --- | --- |
| Top Banner | INR 50,000 / $ 1150 | 468 X 60 | 20 KB |
| Center Banner | INR 40,000 / $ 950 | 468 X 60 | 20KB |